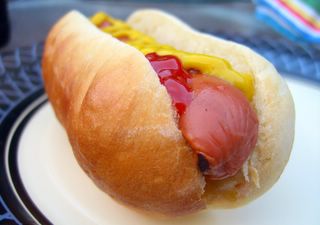 I have never been a big fan of store-bought hot dog buns. I know that the number one complaint about them is that buns are sold in packages of 8, while many hot dogs are sold in packs of only 7, but that doesn't bother me too much. Who hasn't over-toasted a bun and been glad for the extra? I say that it's good planning. What bothers me is that they are never the right size for the the sausage. They're usually too long or are so bready as to overwhelm the hot dog. I also take issue with the buns being overly soft or stale.
But I love hot dogs and, carb lover that I am, I am unwilling to eat them plain.
Making buns has one huge advantage over store bought, besides freshness, taste and fun: customization. You can make the buns in the precise shape and size to fit your sausages. If you are using a spiced sausage, you can include a tablespoon or two of fresh, chopped herbs. As with any bread product, the variations are endless.
The recipe came from King Arthur Flour, but I halved the recipe instead of making a full batch. I also found that they called for a bit too much flour and that the dough was not "slack", though they described it that way. I estimated the amount of oil I added, so it was probably a bit less than stated. The directions below are given for an electric mixer, though you can certainly mix this by hand. I also tried to elaborate on shaping.
I really enjoyed the fact that I got to practice shaping dough while I made these. I am very confident with round loaves now, but, more often than not, my shaped breads look a bit rough. This dough was very soft and easy to work with. It wasn't sticky, but it was easy to pinch the seams together to create smooth buns. I strongly feel that the only way to get good at shaping is to practice. This is a perfect chance to do so because you get 9 tries in one batch of dough! If it doesn't work out on your first try or two, you have many more to work on. And you can always eat your mistakes because the buns tastes great. Once you're good to go with the rolls, you'll be happy to know that they also stand up to condiments without getting soggy.
Hot Dog Buns
(slightly adapted from King Arthur's recipe)
1 tbsp sugar
2 1/2 tsp active dry yeast (1 packet or 1/4 ounce)
1/4 cup warm water (105-110F)
1 cup warm milk (105-110F)
2 tsp vegetable oil
2 tsp salt
3-3 1/2 cups all purpose flour
1 egg white (for egg wash)
In the bowl of an electric mixer, combine sugar, yeast and warm water. Stir to dissolve and let set until bubbly, about 5 minutes. Add in milk, vegetable oil and salt. With the mixer on a low speed with the dough hook attached, gradually add the flour. Once 3 cups have been incorporated, add the remaining flour a tablespoon at a time until the dough begins to pull away from the sides of the bowl. Turn dough out onto a floured surface and knead for 2-4 minutes, until smooth and supple. The dough should be soft, but not sticky. Place in a lightly oiled bowl, cover with plastic wrap, and let rise until doubled, 1-1 1/2 hours.
Shaping the dough:
Gently remove the dough from its bowl onto a floured surface. Flatten it slightly into a large rectangular log. Divide dough into thirds and divide each third into three equal pieces. Cover unworked dough with a clean dishtowel while shaping.
Gently flatten dough into a long rectangle. Fold left and right sides to meet in the center. Fold the top and bottom sides towards the center. Keep pinching the edges together, pulling the dough into a tight roll shape (Not that I'm advocating smoking – because I'm not and I don't – but it is similar to hand-rolling a cigarette. Except bigger. And dough). Repeat until you have 9 rolls.
Place hot dog buns on a parchment-lined baking sheet and cover with a dishtowel. Let them rise for 30 minutes.
Preheat oven to 400F.
Brush buns with egg white and bake for 20 minutes.
Remove to a rack to cool before slicing.
Makes 9 buns.